Wedding season's almost here and we must ask if you have your jewelery ready? Found the right piece of jewelery to match that elegant gown you've dry-cleaned for your best friends wedding? Are all your jewels clean and ready for a night out on the town?
Well if not, JupiterGem is the place for you. We not only provide you with great-unmatched gemstones that are all 100% natural and competitively priced, but also give you the option to transform your gemstones into masterpieces, you will be proud to flaunt.
Heard of the gemstone Morganite? The gem gets its name after the famous gem enthusiast and banker John Morgan, a man who loved to collect gemstones. Morganite the soft pink variety of Beryl is cousin to the famous Emerald, a stone that goes back to the times of Cleopatra. Both from the same family, these gems often tend to have within it hugely different inclusions. Emeralds are for one, known to have large fractures and mica inclusions with growth tubes etc. whereas Morganite is known for it's eye clean gems.
Over the last month we at JupiterGem transformed one of our 50.06cts Morganite gemstone into a beautiful pendant studded with diamonds, set in 18K Rose gold. This pendant will be available on our site soon for purchase and is only a part of what we can create for you. Visit our jewellery pages to see some of our other creations on sale.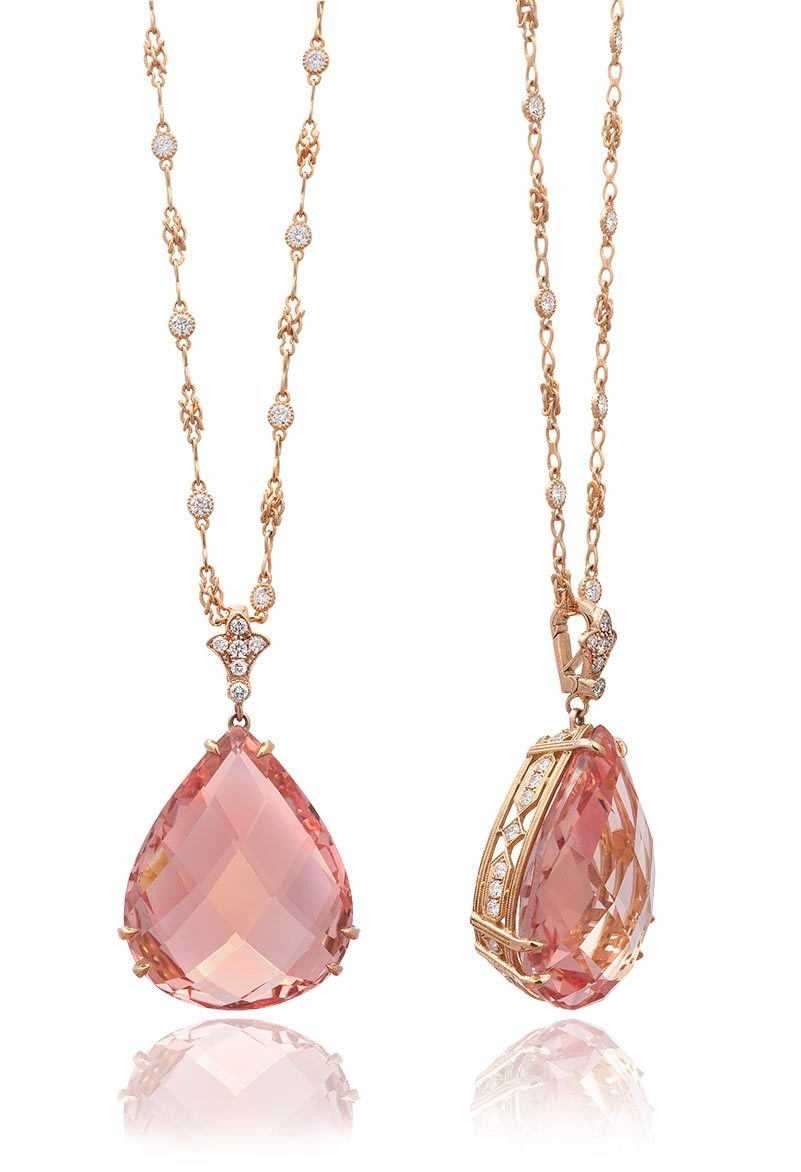 This particular necklace is studded with 1.98cts of natural diamonds is sure to sweep any woman off her feet. If you're looking for the perfect Christmas present, you know what you should be looking for. Set in Rose gold, an alloy of gold that has a beautiful feminine colour, compliments the soft pinkish hues of the natural Morganite stone.
The beautiful checkerboard cut Morganite mined in Brazil, is an eye clean gem, which means the stone has no eye visible inclusions within it. Brazil is known for its rich gemstone deposits and some of the worlds best Morganites, Aquamarines and Emeralds are excavated there.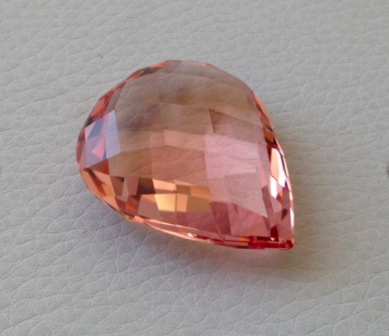 The Morganite gem used in the JupiterGem jewellery piece
As you can see from the image above, the gem has a beautiful orangy pink color that is evenly spread throughout the entire stone. Morganite can take on a very high lustre because the gem has a hardness of 7.5 to 8 on the Moh's scale of hardness, a scale that measures how hard minerals are. This gives the stone a beautiful brilliance from within which has been enhanced by the checkerboard cut. Gemstone cutters play an important role in what the final gemstone looks like, and for this particular gem, the gem cutter has improved its brilliance.
When you take a look at Morganites under a loupe, a magnifying glass used by gemmologists world over, you will be surprised by what you see. The gem could have a variety of inclusions. Some of which we have seen over the years are:
– Growth Tubes: In Morganite you will see very fine growth tubes that are a result of the simultaneous growth of a different mineral
– 2-3 Phase inclusions: these are inclusions, which look like gas bubbles stuck within the stone. They could be gas, or even different crystals that grew during the growth of the Morganite crystal.
You now know about Morganites, where you can find them and how we at JupiterGem can transform them for you. Keep us in mind when you're looking for the perfect gift, for Christmas, or maybe your anniversary or even just a little indulgence.