Valentines Day Jewelry That Will Last A Lifetime
After a dreary 2020, 2021 rings in new beginnings. Which only means this year should be one for us to focus on pampering ourselves with a little Valentine's Day Jewelry. All those coveted pieces that you have been dreaming of should make their way to your jewelry boxes on the 14th February, a day dedicated to the celebration of love.
This year our Valentine's Day Jewelry Guide is one that has been crafted for the enduring, strong and independent woman ready to take on the world. And what better time than now to treat yourself to an indulgent piece that will surely bring happiness, joy and meaning?
Glorious Amethysts
Our first collection this year, is the striking aubergine-colored Amethyst Set. With rich purples that are paired with an excellent cut, each gem has been hand-selected to add to the beauty and charm of the piece.
Simple in design yet, set with diamonds to add a touch of glamour, these heart shaped gems can easily become a wardrobe essential. The gem's versatile appeal and rich color is what makes all the difference.
Gemstones Galore
With a selection of Heart Shaped Gems, we offer you great quality colored gemstones that have been cut to perfection, to create custom made jewelry thats symbolise love and affection. From candy-colored Spinels, radiant Garnets, red Rubies, electric blue Tourmalines and even some vivacious Sapphires, our collection at Jupitergem is unmatched.
Delicate Pinks
Soft salmon pinks in these Morganite studded jewels have a delicate appeal that radiates from them. Their pastel notes, paired with the rose gold colors, of the metal add an allure that is far from overpowering. With a modern touch of color and a resonating shimmer, these delicate pinks will undoubtedly accentuate all skin tones.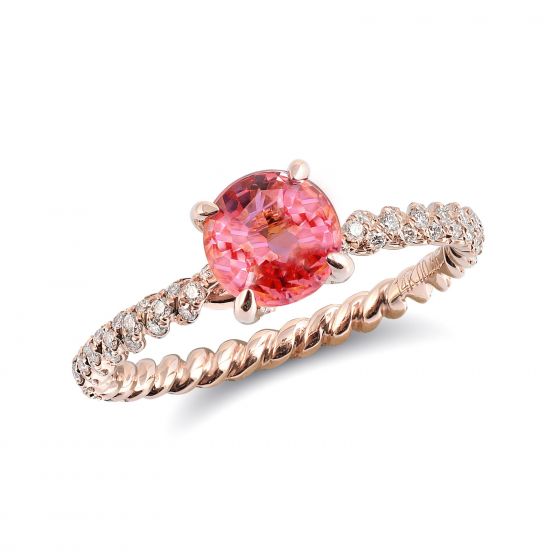 For those of you who prefer something a little bolder in color, this Padparadscha Sapphire ring is a resilient choice. The richest sunset has been captured and saved forever in this perfectly round Padparadscha that comes alive under the sunlight. Paired with diamonds on this twisted rose gold band, this refined ring is both alluring and elegant.
Monogrammed Initials
Crafted in 14K yellow gold, these customised initial pendants will blend well and can easily match ones personality. Delicate in form, these pendants speak of compassion and love showing the amount you care. A piece that will instantly connect with its wearer, the initial pendant will make a fantastic choice this valentines day.