Tis the season to be jolly, and what else can make her happier than some gorgeous jewels.
There are lots of styles you should be sporting this season and not one of them says no to jewelry. The fashion stylists at JupiterGem have put together some styles to show you how easy it is to wear your favorite jewels and show them off with pride over the holidays.
Fashion bloggers and stylists have created a stir that makes it imperative to be seen wearing jewels adorning your winter clothes. From now on, jewelry studded coats and gloves are definitely in!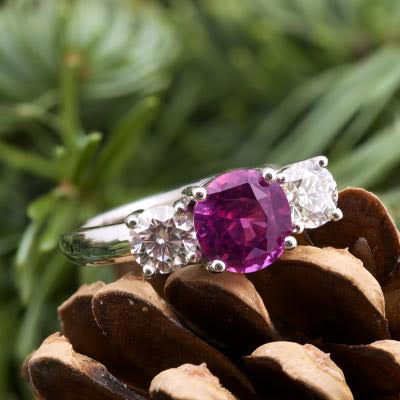 Have you been wondering what jewels to pull off this Christmas? We've created just the right guide on how and what to wear this season without having to worry too much about it.
Wedding Rings
Thinking of popping the big question? Or better still love the ring that comes with it?
This season wedding rings and engagement rings are not only being used to pop the big question but also as a fashion statement. This month feel just as comfortable wearing an engagement ring you've gifted yourself. Floral motifs with halos, modified shapes with gems other than the standard round brilliant shapes are the ones creating a stir.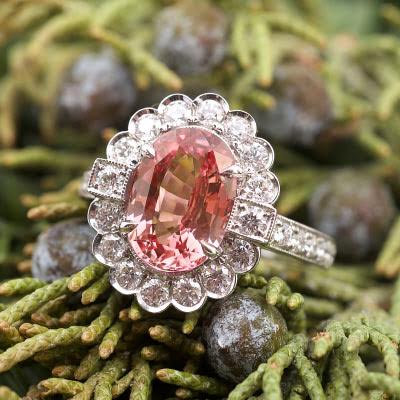 This beautiful Orangish Pink Sapphire weighing 3.85 carats will steal your heart. Superb internal brilliance, color, and size are just some of the things this ring offers. Set in platinum, this oval corundum has not been heated, is completely natural and maintains its natural color. The rings floral outline mapped by the perfectly matched diamonds is what makes this gem a popular choice for the festive season.
Stackable Rings
Rings in every shape and size are a trend hitting the markets; from stackable rings to big bold, colorful and majestic cocktail rings, they are all making a comeback and how. Dreaming of wearing multiple rings on each finger? Then this could be something you can pull off this season with style.
This twin ring studded with a Srilankan Sapphire is just right and perfectly within budget. The prong set diamonds create two fine lines of sheer brilliance, featuring a vivid blue Sapphire. Set in 14K white gold the ring's double band illusion is just what she needs if she's looking to add a little sparkle.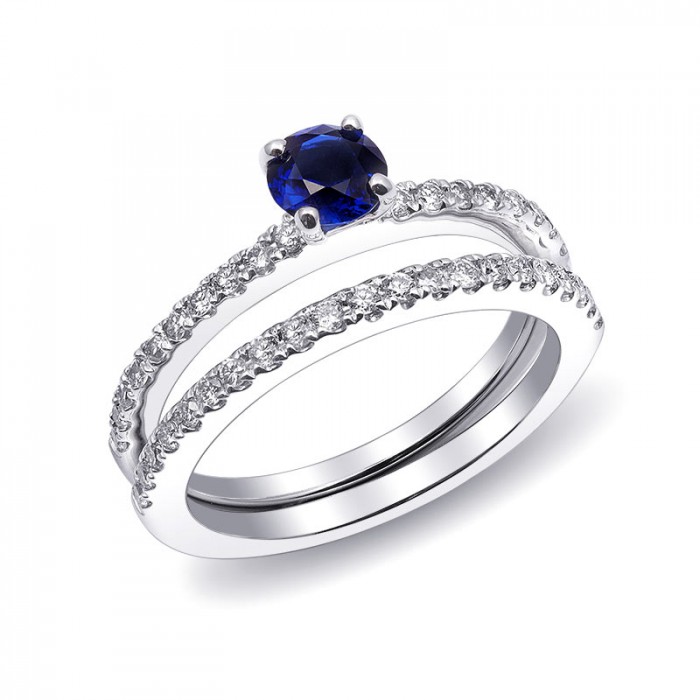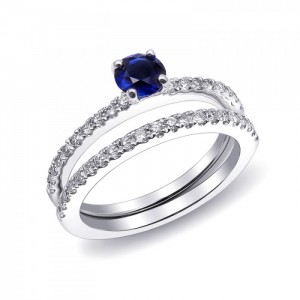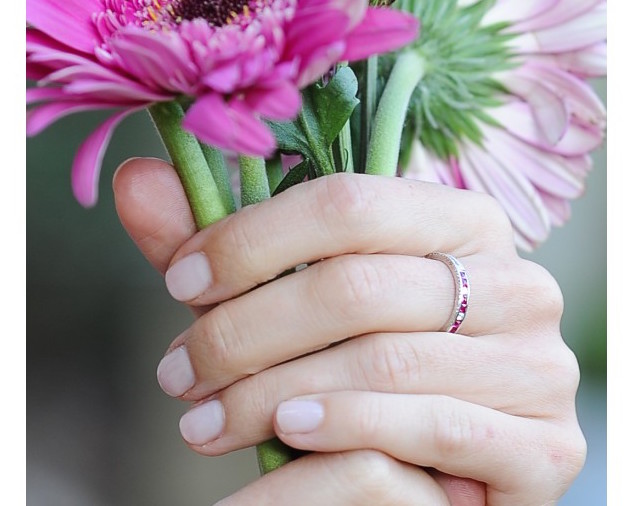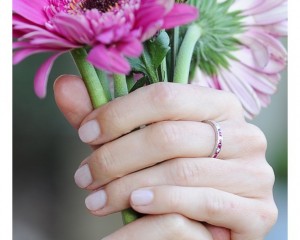 Twin rings much like these stackable rings are being worn on every finger adding that element of chic style and beauty. With our collection of stackable bands studded with gemstones and diamonds, you will be set to rock any look.
It's winter and needless to say you must already have all your jackets prepped for the season. The warm hats with the pompoms, the cozy yet bulky scarves and of course those toasty woolen coats.
Flora and fauna are also making it big. Butterflies, flowers, leaves, and petals are all reaching the runway. Vintage designs that use Victorian inspiration should definitely be on your list as stylists swear they are a trend to keep. Their everlasting beauty is not only for the current season but also for the years to come.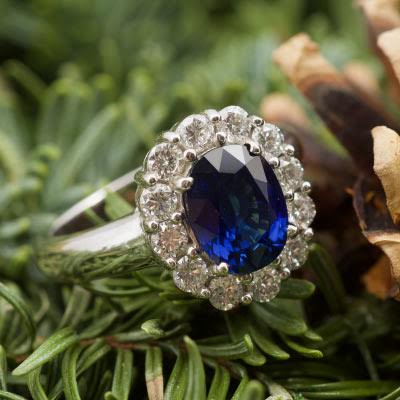 This Sapphire ring above and this delicate Ruby ring below that is beautifully accentuated by the diamonds are just right options you need for this month.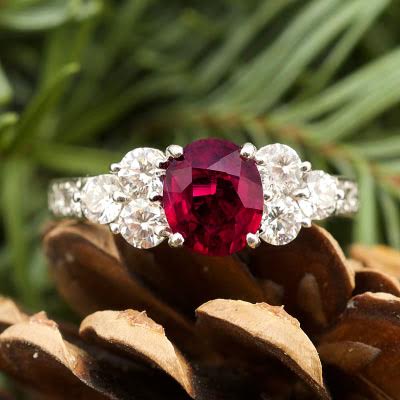 Brooches and Pendants
Brooches are back and must be worn on all your winter clothes with poise. From your coats to your mufflers each outfit can be given its own statement look with a new dazzling brooch. Our collection of pendants can also support this style statement. With a neckpiece standing out from everything else, you can proudly show off your pendants with confidence.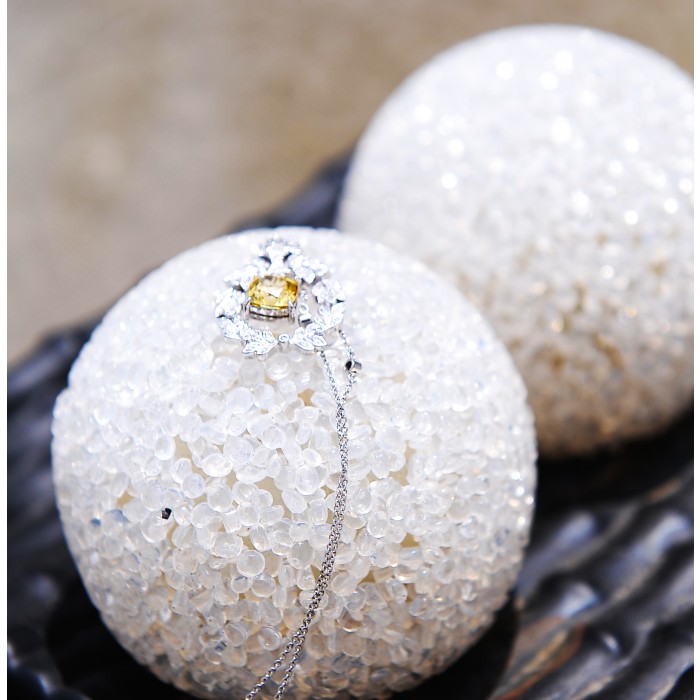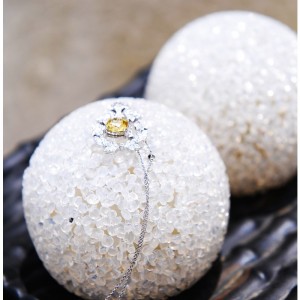 This Victorian era Yellow Sapphire floral pendant is a beautiful addition. It's feminine and delicate design give it its edge. Set in 18K white gold, the yellow sapphire has an even color and can be the center of attraction of any outfit.
You've also probably already noticed that Greenery is the color of the New Year and this bold Tsavorite ring will do just the trick. The perfect symphony of the yellow and green is what creates the perfect lusciousness that works well in sync with the colors of Christmas making this a great choice to be seen in.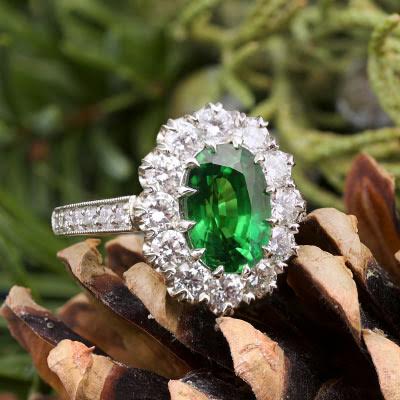 Weighing 3.20 carats, this large gem, is a rare sight. Tested and certified by the GIA this natural gemstone will surely capture your heart. It's versatile floral design is what you can easily wear over gloves as well.
Flaunt those Jewels
Gloves are an accessory most people can't live without during these chilly months and if it's your evening pair or the ones that keep the warmth in, this month is the time to get your ring game on.
Pairing them with gloves of any length will surely make heads turn when they see you. Fashion houses are all coupling statement rings, some studded with spectacular gemstones or large statement pieces on gloves along with bracelets and arm cuffs. Jewelry is both worn for you to enjoy as well as the onlooker and what better way to show off some of your favorite pieces.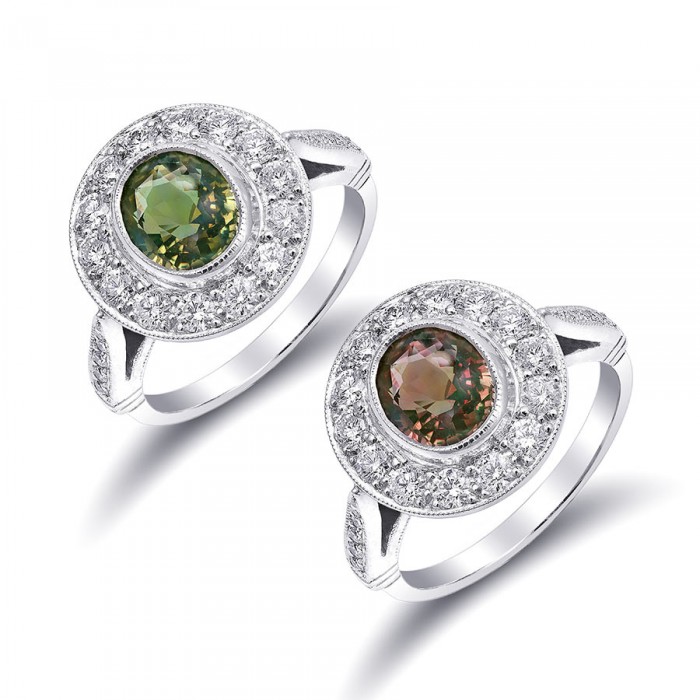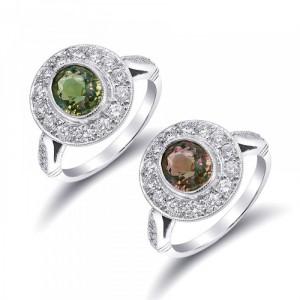 And that's not all, with color being just as big this season, this Alexandrite ring that mimics the colors of Christmas could be just right to get you into the Christmassy feeling. Encircled by diamonds all the way onto the shank, this Alexandrite mounted in the bezel setting has been protected from all the wear and tear a ring goes through. Known for its breathtaking color change, this ring is truly one of a kind.
So start now, and get your jewels in order because this year, Christmas is going to be a good one.
Make a statement with your jewels and you will surely be remembered.
So dont hesitate and log on to our online store and get yourself some Jewels for the Christmas season. We've also got a 15% Discount that could be yours at checkout! Dont Miss out