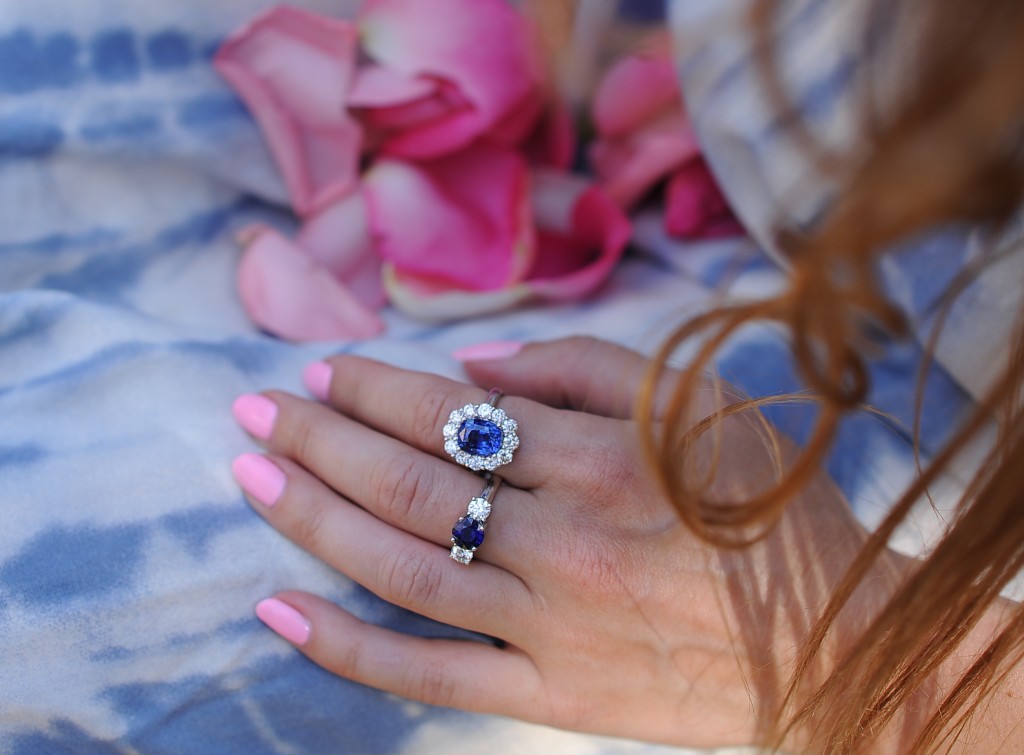 An eternal favorite with artists and designers, the color blue never goes out of style. For gemstone lovers of this soothing color the options are numerous. You could go for a deep purplish-blue tanzanite, an intense electric London blue topaz, or a greeny-blue neon apatite. Certain stones, though, continue to hold their place atop the gemstone hierarchy for a good reason: nothing can beat them! So let's take a look at two classics of the gemstone world – the blue sapphire and the aquamarine.
A bit of Science
Sapphire is the name given to all colors (apart from red) of the mineral species corundum, a form of aluminum oxide. In its natural form corundum is completely colorless, however, this is extremely rare as corundum usually contains a variety of trace elements which give it its color. In the case of a blue sapphire, these elements are iron and titanium, with the amount of iron determining the shade of blue.
Aquamarines are composed of beryllium aluminum silicate which make them a part of the beryl family of minerals. Beryls come in a variety of colors and those that are greenish-blue to blue are given the name aquamarine, no matter how light their coloring. In contrast, emeralds, which are also a part of the beryl family, are understood to only be the more deeply saturated versions of the green beryl.
What's in a Name?
We get the word sapphire pretty much unchanged from the Ancient Greek word sappheiros, which meant blue stone. It's impossible to know, but it is thought that the Greeks were actually referring to lapis lazuli! Today, when we talk about sapphires we really mean blue sapphires of an intensely saturated deep cornflower blue color.
We have our classical ancestors to thank for the word aquamarine too, as it comes from the Latin for water of the sea. Of course the seas in question here are not stormy Atlantic coasts, but rather, azure Mediterranean beaches.
A Royal Seal of Approval
The late Princess Diana had a collection of jewelry to make any gem lover green with envy. She wore fabulously ornate antique diamond tiaras, large modern pearl and gemstone chokers and important pieces from the Queen's personal collection. Yet, two of her most famous pieces were relatively simple; her sapphire engagement ring and her aquamarine ring.
The engagement ring was centered by a 12 carat oval sapphire which was enclosed by a halo of 14 diamonds and set in 18 karat white gold. It was such a favorite that Diana continued to wear it even after her divorce. The ring then took on a new life when Prince William gave it to Kate Middleton for their engagement. Its design was based on a brooch that belonged to Queen Victoria, proving that the classics never go out of style.
Princess Diana's aquamarine ring was seen most recently on the the hand of Megan Markle after her wedding to Prince Harry. The emerald-cut aquamarine is estimated to weigh around 30 carats and is flanked by small diamonds. It certainly is a knockout statement ring! Diana also had a matching five-strand pearl bracelet with a large aquamarine clasp that Megan did not wear.
Special Occasions…
Given their popularity, its no surprise that both sapphires and aquamarines have been chosen as birthstones and to represent wedding anniversaries. So, if you're a sapphire lover and are born in September or happen to be celebrating your 45th or 65th wedding anniversary, you're in luck! Aquamarines, meanwhile, are the gemstone of March and also the 19th wedding anniversary.
But why wait?
We all love a special occasion but think that some things are too good to wait for! At JupiterGem we have a comprehensive selection of the finest aquamarines and sapphires in stock and ready to ship. We also have a brilliant in-house design team who will create you your dream piece of custom jewelry. So, whether you want to follow Princess Diana's lead and opt for a statement ring, or go for an ornate pendant, we are here to help… no need to wait for that big day!