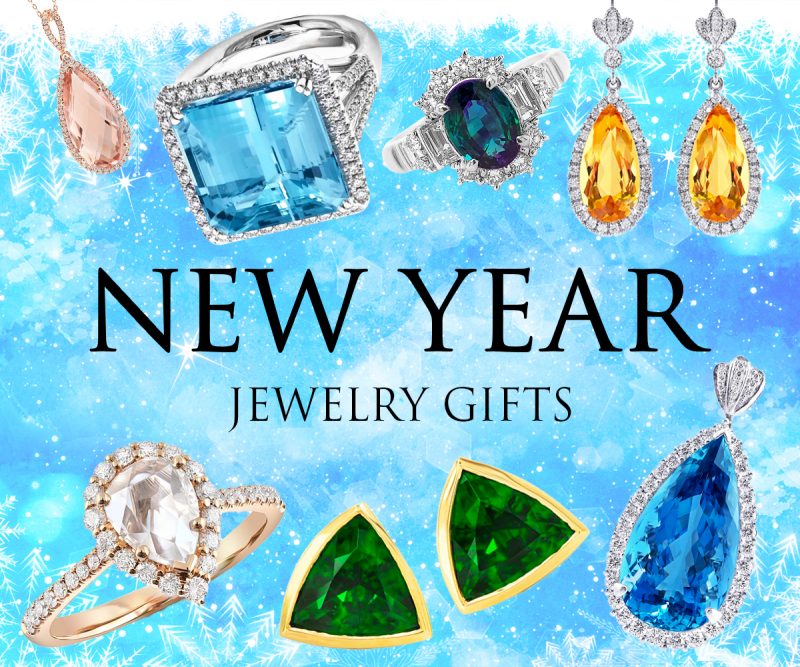 New year, new jewelry? Why not!? We've lined up some of our most desirable pieces to tempt you into starting your New Year in the sparkliest way possible. Whether you're looking to spoil someone special (or treat yourself) we've got your covered!
Diamond Rings for 2023
Baby it's cold outside! With the Northern hemisphere deep in the grips of winter why not take inspiration from the coldest season and adorn yourself with some ice? We're talking diamonds and lots of them! Not just for engagements, a diamond ring is a classic addition to any jewelry collection. It will go with everything and brighten your day when it gets dark outside.
We love this natural rose-cut round diamond ring. Set in 18K white gold, the central stone weighs 0.95 carats and is enclosed by a diamond halo.
For a more modern style, look no further than a 0.91 carat pear-shaped diamond set in 18K rose gold and surrounded by accent diamonds. Both rings are accompanied by IGI reports.
Vacation Inspired Jewelry for 2023
Shake off your winter blues with a piece of jewelry that reminds you of tropical waters and white sandy beaches. Pop on a bright blue gemstone and allow yourself to be transported to distant shores.
Aquamarine, with its stunning bright blue hues, is reminiscent of the crystal clear waters of the Greek islands. Imagine yourself diving off a yacht to explore the azure seas around Santorini or Karpathos. Or you could adorn yourself with an electric blue paraiba tourmaline. These rare gems took the world by storm when they were first discovered in the 1980s and have a neon green-blue color like no other. There's nothing better to bring to mind idyllic Caribbean beaches than a spectacular paraiba.
This natural Brazilian 25.39 carat pear-cut aquamarine pendant is set in platinum, surrounded by a delicate border of diamonds and set to a pretty triple-lobed, diamond encrusted bale. With strong color and excellent clarity, this superior aquamarine would make a wonderful addition to any jewelry collection.
A spectacular natural Mozambique paraiba tourmaline makes a statement in this knock-out ring. At 4.21 carats, the cushion-cut stone is flanked by unusually shaped trapezoid diamonds weighing a total of 1.01 carats. A simple platinum band lets the paraiba tourmaline do all the talking.
Both the aquamarine pendant and paraiba tourmaline ring come with GIA reports.
Spring Jewelry for 2023
It may feel like spring is a long way away, but you can bring a bit of its energy into your life with some verdant green gemstones. Tsavorites, emeralds, garnets, peridots and tourmalines all offer an abundance of green hues to make you feel that the new season is just around the corner.
This beautiful pair of Art Deco inspired statement earrings feature octagonal vivid green tsavorite garnets. Weighing 5.23 carats in total each stone is set to a beaded 18K white gold frame studded with white diamonds. A GIA report accompanies these earrings.
If you're after a more everyday pair of earrings, these triangular shaped natural chrome green tourmaline stunners may be just what you're looking for. The gems weigh a total of 3.59 carats and are bezel-set in 18K yellow gold.
Sunny Gemstones
Brighten up your days with a little sunshine in the form of some golden yellow gems. Vitamin D may be in short supply during winter, but these sunny stunners will make you feel like you're basking in the sun's warm glow in no time.
If you've fallen prey to a winter cold, then why not consider getting a yellow sapphire? We're not saying you shouldn't still see a doctor, but did you know that many cultures believed the yellow sapphire to have healing properties? Yellow topaz is also thought to foster good physical and emotional health – a perfect tonic if the thought of a long winter is getting you down.
Stacking rings are bang on trend and this sweet yellow sapphire and diamond version will be a perfect addition to your set. 14K yellow gold adds to the happy sunny feeling this ring exudes.
A total of 10.26 carats of golden yellow topaz grace these pendant earrings. The honey-hued pear-shaped natural stones are enclosed by diamonds and suspended from fleur-de-lis inspired diamond studded bales. These are gorgeous statement earrings sure to warm up any chilly room.
Pantone Color of the Year 2023 in Jewelry
The color experts over at Pantone have spoken and magenta is the color of the year for 2023. An 'animated crimson', this color is sure to be everywhere, so why not get in on the trend early and pick up some jewelry with a spectacular magenta gemstone?
This 7.25 carat pink sapphire ring is just what you need to add a bit of magenta magic to your life. The cushion-cut stone has a GIA report and is enclosed by a border of dazzling white diamonds set in platinum.
Spinels also offer some hot magenta magnificence and this 0.50 carat ring is no exception. The natural Burmese stone is set to a pierced double diamond halo and a 14K white gold split diamond shank.
Shop Those Winter Blues Away!
Whether you're looking for a gift to dazzle a loved one or a little something for yourself, we're sure you'll find something to your liking at JupiterGem. We've got a wide selection of beautiful jewelry to kick those winter blues to the curb and welcome 2023 in with a sparkly bang! Get in touch and let's get shopping!