If you ask young women what kind of words are the happiest and most precious, most of them without thinking will gently say in response:
-Will you marry me?
-Yes!
At the same time, she will imagine a romantic atmosphere in her mind and the most important, a very beautiful and long-expected engagement ring that will become a part of their family history.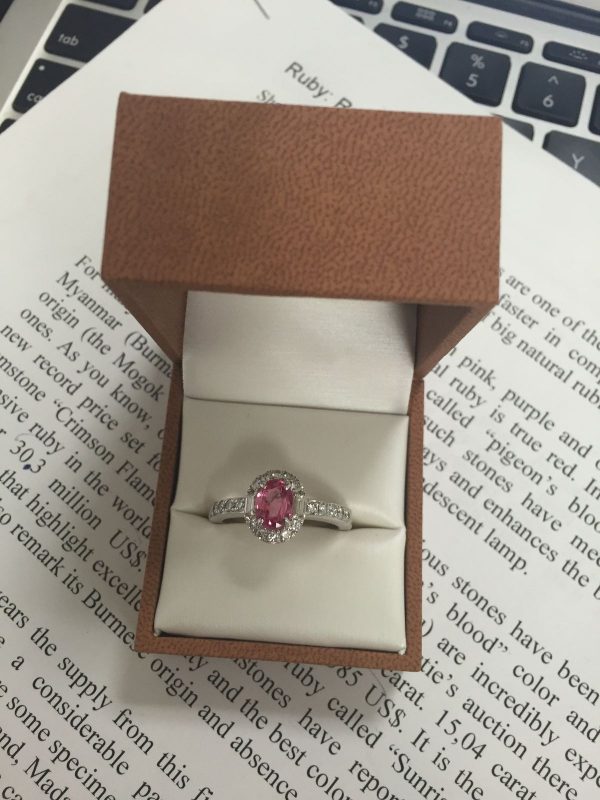 Gemstone Rings
Today many people want to stand out that is why they sideline diamonds. It occurs because there is a wide choice of colored gemstones available on the market; they may highlight the individuality of a fiancée and the incredibly special occasion. Blue, green, gray and brown stones give us fancy full scope – they may be selected to match a color of her eyes, and all pink and red colors convey the passion of two hearts best of all.n
Besides, you should not forget that a purchase of a ring is often an investment and currently colored stones show a rise in market values.
Rainbow of choice
Sapphires and Rubies are good because they come from the mineral Corundum and have remarkable hardness of 9.0 on the Moh's scale. The highest grade belongs to a diamond, but at the same time it is inherently fragile in specific directions: falling to the tile floor, for example, can break the stone whereas corundum is much more solid.
Today it is also popular to present fancy colored Diamonds, especially pink and yellow ones that are both brilliant and strong. Although comparing their cost with the Sapphires in the same colors, the latter ones could be more reasonable. Sapphires have other romantic colors suitable for the occasion of an engagement. Padparadsha Sapphires are extremely popular and loved in the East; they combine a pink and orange color that instantly reminds you of the warm colors of sunset or the lotus flower.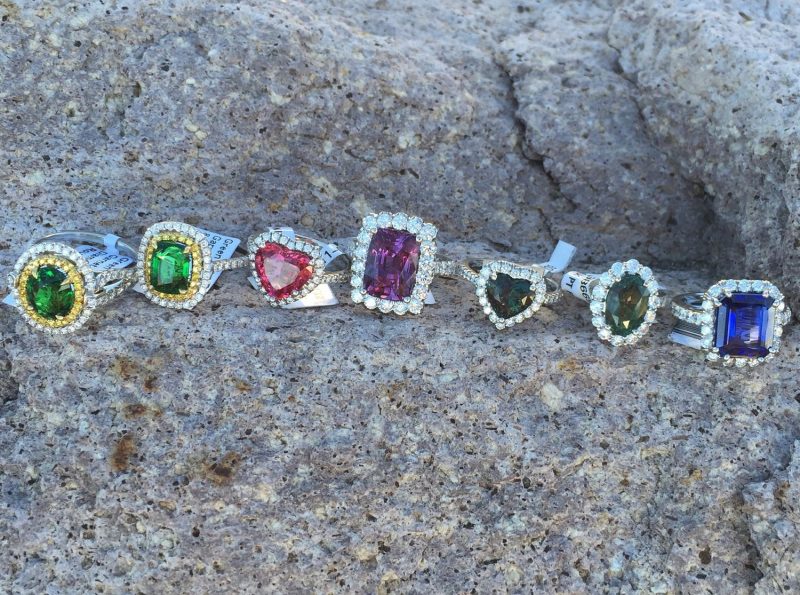 The world of colored stones is rich and bright. Some such stones as rare Spinels, Tourmalines with a lot of colors are popular and valuable; one of them being the Paraiba Tourmaline. Neon blue stone is fresh, surprisingly beautiful and never unnoticed.Dealing with colored stones it is particularly nice that hues may differ so much that it is always possible to select the one that will bring the strongest emotions: from subtle to candy-bright, colors that can never be replicated.
Dealing with colored stones it is particularly nice because hues may differ so much that it is always possible to select the one that will bring the strongest emotions: from subtle to candy-bright, colors that can never be replicated.
Synonymous with the Famous
Many great people preferred colored stones for their engagements too. The engagement ring presented by the King of England Edward VIII to his fiancée Wallis Simpson for the sake of whom he renounced the throne and lived happily all his life. The ring was set with a 19.77 carat Emerald surrounded by the smaller sparkling diamonds, with the engraving 'We are Ours now 27х36', it symbolized the date of official engagement that was strived for so long – 27th October 1936.
British prince Andrew proposed to Sarah Ferguson in the Scottish castle where they kissed each other for the first time. He presented his beloved a ring with a Ruby from Burma, considered to produce some of the world's most spectacular gems, matching the fiery hair of his fiancée.
And, of course, the famous engagement ring of Princess Diana, which is familiar to everybody. Prince Charles presented the large bewitching oval Ceylon Sapphire, surrounded by the diamonds on their engagement. Diana's son, Prince William proposed to Kate Middleton with the same ring. Such design of jewelry became an elegant classic, a bestseller that is showed off on fingers of a lot of young women all over the world.
At Jupiter Gem, we have some of the best quality Sapphires from the sunset Padparadshas to vivid blue Sapphires from Srilanka. We also stock rare Paraiba Tourmalines and Spinels in vibrant colors. With customization being our forte, get in touch with us if you would like to design the perfect ring for your loved one.