When you think about your wardrobe and accessories for the upcoming season you might not have diamond earrings on your mind. That would be a big mistake! Diamond earrings should be a part of every woman's accessory wardrobe. After all what's not to love about diamond earrings?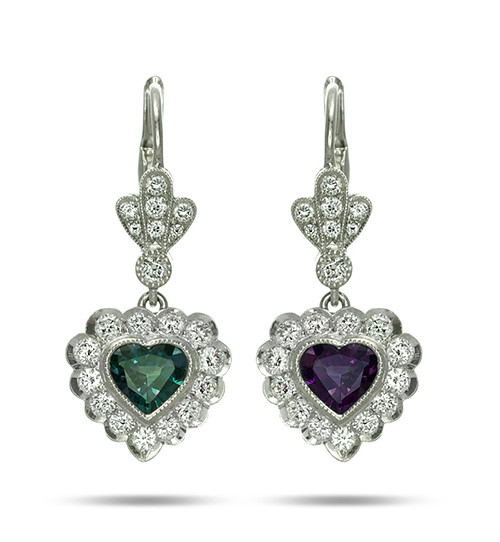 Why wear diamond earrings?
Fashions come and go with the seasons. Colors change, styles change. First it's in fashion and then it's out. Choosing accessories means each season something's going to be different. That is unless you are a smart accessory shopper and choose accessories that are timeless and never go out of style. That's exactly what diamond earrings do. They always look beautiful. They always add the finishing touches to any outfit, and they always hold their value.Costume jewelry isn't cheap these days, yet we buy it, wear it for a few months, and then toss it as the next seasons styles come in. While they may cost you a little more initially it's worth every dime. Suddenly you have a key accessory that can be worn from the beach to the boardroom without every skipping a beat. And with so many diamond earrings to choose from, you are certain to find a style that's exactly right for you.
How to wear them;
Diamond earrings are one of those jewelry accessories that you've simply got to love. They look great with that little black dress and just as good with your favorite pair of jeans. They'll leave a lasting impression at the formal event and leave you fully dressed at the beach. Diamond earrings are that versatile, and best of all they are very affordable.Diamond earrings are available in various styles, cuts, carat weights, and clarity. The higher the clarity grade the more they will cost, however when shopping for diamond earrings remember that the diamonds are usually very small so that clarity is usually not a big issue and there's no reason to pay for the highest clarity. You can save a bundle that way.The round cut of diamond earrings is the most common but the marquis and the emerald cut are also both very popular. There are many different styles that you can choose from. Diamond earrings come in chandeliers, dangles, droplets, hoops, and studs, so no matter what you are looking for you should have little problem finding it on the internet.
Availability;
Look for jewelry retailers online that have a reputation. Look for websites that provide you contact information including a phone number. That way if you have questions or this is a problem with the diamond earrings you can easily contact them.
Before you complete your purchase, take a few minutes to review their return policies and decide if you can live by it before you make your purchase. You should also read their privacy policy to make sure that you agree with the manner in which your personal information will be taken care of.Diamond earrings are a jewelry piece that every fashion conscious woman recognizes as something they should have in their collection.